Insisting on the Best Ingredients
Read about what makes our Denmark Cream Cheese Cakes special, from the quality Danish ingredients to the beautiful appearance that we take meticulous care to ensure.
Why we insist on Danish cream cheese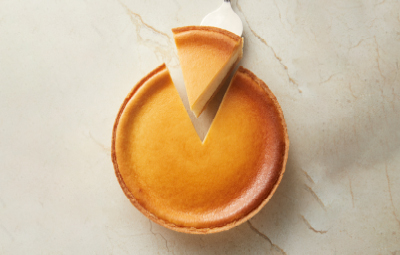 Since it was first launched, Morozoff has insisted on using carefully selected Danish cream cheese of the highest quality.
Danish cream cheese gives our cream cheese cake a full-bodied, rich milk flavor and a fine texture that is packed with flavor.
Further, in 2004, the 35th anniversary of the product's launch, we increased the quantity of cream cheese in the recipe, which gave the cheese cake an even richer flavor.
We also changed the name of the product from Cream Cheese Cake to Denmark Cream Cheese Cake.
Morozoff's Denmark Cream Cheese Cake is endorsed by the Danish Agricultural & Food Council, as shown by the "DANISH" logo on its external packaging.
DANISH Logo

The Danish Agricultural & Food Council grants the right to use the "DANISH" logo to eligible food products as proof that they contain ingredients produced in Denmark.
We also care about how the product looks.
We have always taken great care not only with how good our products taste, but with how beautiful they look as well. After repeated trial and error, including multiple adjustments to the oven temperature and cooking time, we finally landed on the best way to make our Denmark Cream Cheese Cake so that it looks as delicious as it tastes.
The even, golden color with no surface cracks is another distinctive characteristic that is unique to Morozoff's Denmark Cream Cheese Cake.